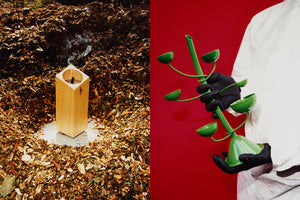 29/10/20 BURN BY DEAN EDMONDS
INCENSE 1 from AFFXWRKS is an all-natural hand dipped charcoal incense cone created in partnership with East London based incense perfumer Cremate. Essential oils of cade, pine and lemongrass combine to create an exclusive scent merging the man-made and natural, industrial base tones of creosote and tar balanced with mid green tones of pine. 40 cones presented in a custom AFFXWRKS 'prescription container' bottle will launch in January 2021 alongside the AFFXWRKS SS21 collection.
To introduce INCENSE 1, AFFXWRKS commission product designer Dean Edmonds to create five unique incense burners.

Intended to contrast in texture and feel, each piece borrows from previous Edmonds projects in form and method. The materials employed inform the finishing process (or lack thereof) with some pieces surprisingly heavy while others delicate and light. Viewed as a set, the intention is that of a group of specimens collected from varying environments and topologies.

The five incense burners are on display and available to purchase at Très Bien London, 23A Meard Street, London, W1F 0EY from 29th October until 4th November 2020. Please contact london@tres-bien.com for further details.

An edition of 50 individually stamped TRI Burners from Dean Edmonds, together with a pre-release of INCENSE 1 presented in a custom AFFXWRKS bottle containing 40 cones, are available to purchase at affix-works.com and Très Bien (in-store & online at tres-bien.com).
50% of sales for the TRI Burner on affix-works.com will be donated to Black Minds Matter UK as chosen by Cremate.